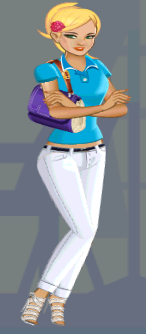 Amanda is a cash recruitable 'Gourmet chef'.
She appears as part of the 3rd set of recruits as a Baker for the Bake off! You need to choose either Amanda, Tiffany, or Lauren.
Amanda is of the Hipster club.
Appearance
Edit
Amanda has Blonde Casual Updo, Green Thin Eyes, Orange Small Mouth and Skin Tone 3.
Original Outfit
Edit
Amanda wears a Blue Polo Short, White Skinny Pants, White Strappy Sandals, Pink Hair Clip and a Violet Toto Bag.
Career Line
Edit
| Career | Cash | Education |
| --- | --- | --- |
| Dough Puncher | 60/hour | N/A |
| Apprentice Baker | 90/hour | ? |
| Bread Baker | 150/hour | ? |
| Cake Decorator | 270/hour | ? |
| Cupcake Artist | 450/hour | ? |
Boy Compatibility
Edit
| Boy | Compatibility |
| --- | --- |
| Shuhan | 4 Flames |
Appearance in Other Apps
Edit
In Episode, she plays as Ava in Super Secret Cedar Hill, and along with Michelle plays as Emily in A Perfect World