Brianna is a sporty character who appears in both Campus Life and Campus Holiday
Campus Life
Edit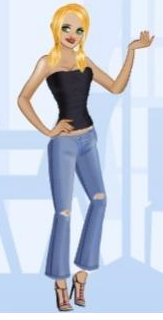 Career
Brianna is a boxer, along with Alison and Vanessa. She is a member of the sporty club and an amateur golf player.
Appearance
Brianna has blonde low pigtails, purple normal mouth, dark green eyes and skin tone 3.
Brianna has blonde cropped short hair, blue eyes, red full mouth, skin tone 1 and is an Ice Skater.
Appearance in Other Games
Edit
In Episode, Brianna plays as Maddie in A Perfect World, Ms. Johnson in Lovesick.